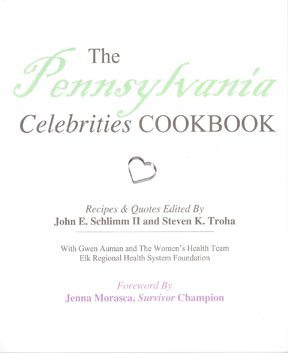 Buy now at these online retailers:
(Stohn Books, Inc., 2005, Out-of-Print)
Introduction for The Pennsylvania Celebrities Cookbook:
One might ask us, Why a book about Pennsylvania? And Why a book benefiting breast cancer research, prevention, and treatment?  The answers to both questions are quite simple.
We are very proud of our home state.  We are proud of the integral role that Pennsylvania played in the birth and evolution of our nation and its leadership role in today's political landscape, the state's irrepressible tradition of industry and trade, the rich cultural diversity that preserves our eclectic heritages and customs, the rolling hills and thick forests teeming with abundant wildlife, the fine educational and medical institutions that attract thousands of students and researchers from around the globe, the electrifying sports teams that add cheer and happiness to Sunday afternoons, the towns and cities where everyone feels at home, and the celebrated individuals who were either born here or in someway impacted the state, each inspiring us to chase our own dreams and life pathways wherever they may lead.
It has been an amazing adventure for us to research and get to know the superstars and the history-makers and the everyday heroes who have hailed from the Keystone State.  Before the worlds of entertainment, sports, politics, business, art, and music claimed the iconic likes of Mister Rogers, Survivor champions Jenna Morasca and Amber Brikich, Arnold Palmer, Smarty Jones, President James Buchanan, Teresa Heinz Kerry, Lee Iacocca, Hershey's Chocolate, Andy Warhol, Punxsutawney Phil, Fabian, Joe Bonsall, and Lisa "Left-Eye" Lopes, they belonged to PA.  Before the annals of history claimed William Penn, Ben Franklin, Betsy Ross, Daniel Boon, the Liberty Bell, the Quecreek Miners, and a Somerset County field where a plane full of heroes perished on September 11, 2001, they belonged to PA.  And before the royal palaces claimed Her Serene Highness Princess Grace of Monaco, she, too, belonged to PA.  These are only a few of the thousands of extraordinary men and women, along with the millions of our other neighbors whose names we will never know, who have formed the luminous tapestry of PA that resounds from Independence Hall and the fertile Delaware Valley to the Ohio Valley and sandy shores of Lake Erie, each adding their own personal stitch and vibe that has made the state what it is today.
Why a book celebrating Pennsylvania?  Because, simply put, it is our home and there is no other place quite like it.  No matter where we have traveled or lived, a small part of this great state is always with us, in our hearts, on our minds, and occasionally, even in our dialects!  We are certain that we are not alone in sharing this sentiment with everyone else who lives or has visited here.
We were also thrilled to partner with the Women's Health Team of the Elk Regional Health System Foundation so that this project could benefit women's health initiatives, particularly breast cancer research, prevention, and treatment.  Why would two guys be interested in working on this issue?  Because before anything else, we are sons and grandsons and nephews and brothers and cousins and friends of women whom we greatly admire and who have helped to mold us into the people we are today.  Our families, just as everyone else's, have been touched by this disease, a cruel thief in the night that sometimes comes silently and at other times blares down with a deafening roar.
We have experienced firsthand the triumphs of remission and recovery and we have had to move forward through loss and tragedy.  It is the feeling of joy and laughter garnered from those triumphs and the tears and lessons hard-earned from those losses and tragedies that drives this project, that motivated us to do our part to make a dent in this disease, to facilitate one step more in this battle so that someday such a mission will not be necessary.
First and foremost, this book is a celebration, a celebration of Pennsylvania and a celebration of life.  We believe that life in its purest form of love and determination is always a celebration, untouchable even by the cruel thief in the night, and even in the mortal weakness and despair of disease, there is always love, there is always determination, and there is always hope to help move us forward.  There is always hope.