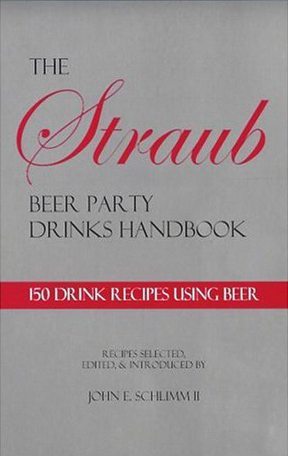 150 Drink Recipes Using Beer:
Beer-lovers and connoisseurs everywhere can now enjoy their favorite brews and other alcoholic beverages in a new and exciting way with THE STRAUB BEER PARTY DRINKS HANDBOOK, which contains 150 drink recipes that all use beer. (Currently out of print)
150 Cocktail Recipes Using Beer
(Stohn Books, Inc., 2004)
The Straub Beer Party Drinks Handbook can be ordered directly from Straub Brewery by calling 814-834-2875.
In The Straub Beer Party Drinks Handbook, beer makes the big leap from the keg and bottle into the cocktail glass, shot glass, and punch bowl, offering you even more ways to enjoy your favorite brew. With this unique collection of drink recipes, you can now sip, chug, shoot, chase, scoop, and ignite beer like never before. Beer is combined with an endless array of ingredients, including gin, vodka, vermouth, liqueurs, whiskey, schnapps, wine, tequila, and even ice cream, to create 150 specialty drinks that will be the star attraction at your next celebration, picnic, get together, or quiet night at home.
The Straub Brewery, Inc. in St. Marys, PA, was founded in the 1870's by German immigrant Peter Straub, who at age 19 left his homeland in search of the American dream. More than 140 years later and still owned and operated by the Straub family, the Straub Brewery, Inc. produces Straub Beer, Straub Light Beer, and Peter Straub's Special Dark.
John Schlimm is the great-great-grandson of Straub Brewery Founder Peter Straub.