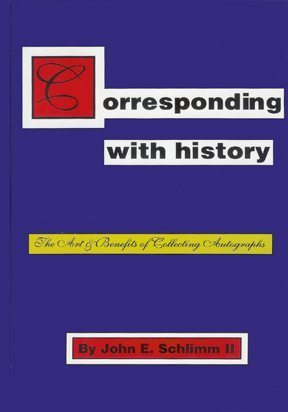 Buy now at these online retailers:
The Art & Benefits of Collecting Autographs
(Etc Pubns, 1997)
John Schlimm's now classic, first published book, Corresponding With History, is part memoir, part Pop Culture time capsule, and part how-to. In it, he tells of his early brushes with fame, in person and as pen pals, with the likes of Jackie Kennedy Onassis and other White House inhabitants, Hollywood royalty such as Betty White and Bette Midler, newsmakers such as John Glenn and John Wayne Bobbitt, and even Mother Teresa, which marked the beginning of his historic autograph collection that now numbers more than 4,000 signed pieces and which was also widely chronicled in his more than decade-long "Book Collector" column and feature articles in Autograph Magazine.
In discussing over 44 different genres of autographs, spanning politics, art, royalty, sports, and more, John provides easy-to-follow instructions for other aspiring autograph collectors as well as a chapter of projects that teachers can do with their students to inspire them to become more engaged with newsmakers and events around the world.
It is John's goal to amass an autograph collection that will chronicle the who, what, where, when, why, and how of his lifetime.