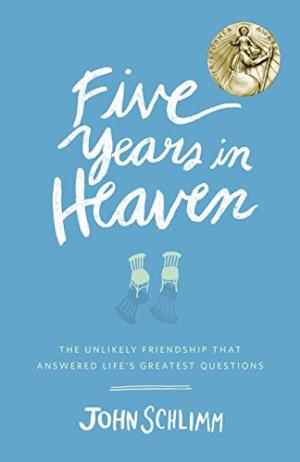 Buy now at these online retailers:
What is heaven on earth? The answer lies in this true story of one young man's journey to find hope and purpose with the help of an unlikely teacher–a compassionate and wise old nun, whom the world had long-forgotten.
***Winner of 2016 Christopher Award***
Five Years in Heaven:
The Unlikely Friendship That Answered Life's Greatest Questions
(Image/Penguin Random House, May 5, 2015)
What if you had the chance to learn the answers to life's greatest questions? And what if you realized you only had a limited time to embrace a divine intervention that would help you discover who you really are and your true purpose in this world?
In his new memoir, FIVE YEARS IN HEAVEN: The Unlikely Friendship That Answered Life's Greatest Questions, award-winning author John Schlimm writes a poignant and heartfelt story of friendship and second chances not seen since Tuesdays with Morrie.
At age thirty-one, lost and alone at a crucial crossroads in his life, John found Heaven on earth. On the grounds of a 150-year–old monastery, he met 87-year-old Sister Augustine, the wise and humble artist at the convent's ceramic shop. Over the next five years, John visited Sister just about every week. Their hundreds of visits became a master class in the meaning of life, love, and starting over, with a lot of laughter along the way.
"Her cloistered world became my refuge and my most important classroom. From the beginning, we were teacher and student in ever-changing roles, traversing the ultimate once-in-a-lifetime pilgrimage," writes John. "Within those walls, I could ask any question, confide any secret, vent any frustration, and float any brainstorm. No topic was off-limits—from forgiveness, death, and even the existence of God, to love, success, creativity, sin, and my own lifelong struggles with personal demons."
John was able to return this blessing of friendship by showing Sister Augustine—a gifted artist whom the world had forgotten—that her life still had one very important last chapter left to go. And how even in the most remote corners of our existence, second acts are always possible.
FIVE YEARS IN HEAVEN will remind readers that we can find love and joy in the most unexpected places, and that the building blocks of a full, purposeful life at any age are always within our reach. Amidst the timeless and universal questions that Sister Augustine and John discuss throughout, readers will find their own inspiration, peace of mind, and meaning in the answers that are revealed, along with their own glimpse of Heaven on earth.
Since its release, FIVE YEARS IN HEAVEN has captivated the country and beyond. On release day, the book inspired the global #ThankANun Day social media effort, which reached nearly 5 million people. The book's grassroots message of hope and second chances has personally affected thousands, including a grandma in Iowa who asked John to draw a hummingbird in a copy for her daughter whose 8-year-old son passed away from cancer. Another mother told John about her son who is in the throes of drug addiction, and how Sister Augustine's advice in the book is helping her to cope with this enormous challenge. And with the release of the Korean and Chinese editions of the book, Sister's lessons are now reaching an international audience as well.
Praise for Five Years in Heaven:
"This is an inspiring memoir of the miracle of friendship. We can all learn much from this book's simple and profound wisdom."
~ Deepak Chopra, New York Times Best Selling Author of The Path to Love
"Empowering and heartfelt, Five Years in Heaven is a beautiful testament to new beginnings and second chances at any age."
~ Andie Mitchell, New York Times Best Selling Author of It Was Me All Along
"What can an 87-year-old Benedictine sister teach a world-weary 31-year-old self-described 'lost and disoriented' man?  More than he could have imagined.  What can this book about their unique relationship teach you? More than you can imagine. This heartwarming story about spiritual friendship shows how God's love can be revealed in the most surprising of ways, and people."
~ James Martin, SJ, New York Times Best Selling Author of A Jesuit's Guide to Almost Everything
"Five Years in Heaven is a beautiful tribute to the divine wisdom and comfort of friendship. This is an inspiring blueprint for living life to the fullest at any age."
~ RoseMarie Terenzio, New York Times Best Selling Author of Fairy Tale Interrupted
"Five Years in Heaven is a wonderfully crafted book that must be read slowly in order to fully absorb the brilliance and depth of Sister Augustine's insights into the human condition."
~ Mary Neal, New York Times Best Selling Author of To Heaven and Back
"This is a beautiful and uplifting book that makes me smile."
~ Maura Poston Zagrans, bestselling author of Miracles Every Day
"Schlimm's book has the charm of the friendship it describes; it will prove worthwhile for individual seekers, as well as those who live with or care for the aged."
~ Library Journal
"In Five Years in Heaven, John Schlimm reminds us that at its best, friendship is a relationship that can reveal the presence of God. . . . Five Years in Heaven reminds us that friendship can be found in surprising places."
~ U.S. Catholic Magazine
"This is more than a book . . . you're creating a movement. Five Years in Heaven is part of a life-changing experience for each of us readers."
~ Lisa Hendey, Host of Catholic Moments
"A beautiful book full of wisdom, laughter and heartwarming moments . . . If you want to read a book cover to cover, this is just the one for you."
~ Catholic Drinkie blog
"John has ensured that the story and lessons of Sister Augustine have no end. For that we have an opportunity of our own little slice of heaven….Sister Augustine is surely smiling."
~ The Catholic Book Blogger at Patheos
"This memoir is valuable, not just for the lessons that John Schlimm learned during his visits to Sister Augustine's studio, but in the way the story illuminates the mutual give and take of a holy friendship."
~ Amazing Catechists
"Five Years in Heaven is a testimony to God's love, which manifests itself in the love and the friendship that we share with others on our path."
~ Seasons of Grace at Patheos
"God is in the details here."
~ Catholic Newbie