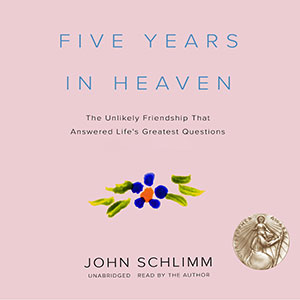 About Five Years in Heaven
What is heaven on earth? The answer lies in this true story of one young man's journey to find hope and purpose with the help of an unlikely teacher—a compassionate and wise old nun, whom the world had long-forgotten.
By the time Harvard-educated John Schlimm turned thirty-one years old, he had worked with some of the biggest superstars in Nashville and served under the most powerful people in the White House. But something was missing. His life had come to a standstill, lost in a whirl of questions about belonging, faith, rejection, and purpose. He soon decides to return to his small-town roots in search of a new beginning.
Returning home, John meets eighty-seven-year-old Sister Augustine, the beguiling self-taught artist-in-residence at the ceramic shop on the sprawling grounds of the local 150-year-old convent. John is instantly bowled over by Sister's quiet grace and vision. Before long, his weekly visits to Sister's shop become a master's class in the meaning of life, love, humility, and second chances. As she directed him on the road to self-discovery and salvation, John returned the favor by putting Sister Augustine on the front page of newspapers and showing his friend that her life still had one very important and unexpected final chapter yet to go.
In Five Years in Heaven, John shares the wisdom, humor, grace, and inspiration he experienced during his hundreds of visits with Sister Augustine. Five Years in Heaven reminds us that we can find love and joy in the most unlikely of places, and that the building blocks of peace and happiness are always within our reach.
About John Schlimm
John Schlimm is a Harvard-trained educator, artist, advocate, and award-winning author. He has travelled the country speaking about inspirational/motivational topics, including his "Embrace Compassion, Change the World" keynote address on Capitol Hill. John is the creator of such participatory art projects as THE SMILE THAT CHANGED THE WORLD (is yours) and co-founder of The Kindness Rocks & Smiles Community Project. He has appeared on national media outlets such as The Ellen DeGeneres Show, Hallmark Channel's Home & Family, Bravo's Watch What Happens Live, NPR, QVC, and The Splendid Table.
Editorial Reviews
"We can all learn much from this book's simple and profound wisdom."
—Deepak Chopra, New York Times bestselling author
"Empowering and heartfelt."
—Andie Mitchell, New York Times bestselling author