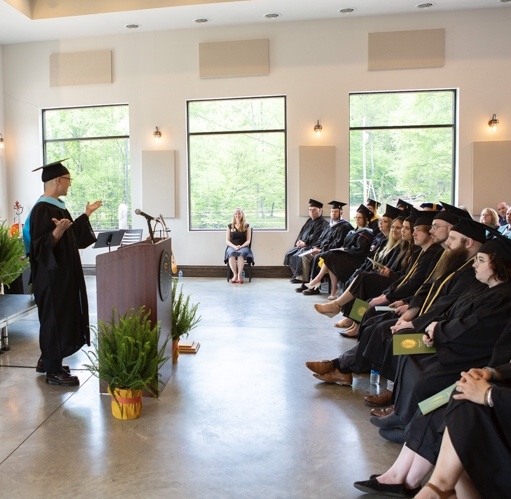 2022 Commencement Address at Northern Pennsylvania Regional College
Rise From There!
Commencement Address
By
John Schlimm
Northern Pennsylvania Regional College
May 21, 2022
______________________________________________________________________________
       THANK YOU!
       It is such an honor for me to be here today with you graduates, at this extraordinary new starting line in your lives.
       Before I begin, I have 2 FYIs, or Warning Labels, if you prefer to call them that:
       First FYI: I am a very sentimental person – Some might even call me an easy crier! I come by it naturally. I come from a long line of great aunts, and grandmothers, who were all sentimental. They would cry in sad times, but also laugh so hard in good times that they'd have tears in their eyes.
       So I make no apology for tears—sad or happy. I appreciate how these ladies especially showed me what a gift they are.
       And I'll also add here that these same great aunts and grandmothers also taught me the most important lesson about age – That age is not about a number, but rather about the answer to this one question: "Are you fun or not?"
       My great aunts and grandmothers were fun. REALLY FUN! Even into their 80's, 90's, and in one case the age of 104, these ladies could drink any 21-year-old under the table, and then hop on top of that table and dance!
       So don't be surprised if I start tearing up today, or for that matter, hop up on a table and start dancing!
       Please feel free to join me.
       Second FYI: One of my all-time favorite TV shows is Schitt's Creek! So I will be quoting from that show at some point during our visit. And the fact that we just happen to be in this beautiful venue alongside a creek makes that all the sweeter!
       I have been very blessed to be a part of the academic world for the better part of the half-century that I've now spent on this earth: Either as a student or as a teacher.
       Early on, as a student and then later as a teacher, I witnessed firsthand how there are many inflated Egos in the academic world. I know, shocker, right?!
       These are Egos that think they know what is best for all students. Egos that have traditionally set all the rules and positioned themselves on lofty golden perches of academic glory where they reach down, grab hold of students, and then yank them upward screaming and kicking—all because these Egos think they know best.
       I'll let you in on one of the world's worst kept secrets: That mode of education facilitated by those grossly-inflated Egos has never been a winning strategy, especially for the students!
       In my own career as a teacher, I have chosen to take the complete opposite approach: I believe in meeting students, and all people, where they each are, and then helping them to rise from there.
       This is why I have been a #1 fan of Northern Pennsylvania Regional College from the moment it was conceived and founded!
       The incredible team at NPRC found the magic formula that has evaded so much of the academic world for centuries. NPRC was founded on the mission of meeting you, the students, where you are—in both your personal lives and career paths—and helping you to rise from there!
       Because of this, I want to thank the team at NPRC for cultivating this groundbreaking pathway that has made education accessible to more students than ever before.
       And, I also want to thank you graduates for also helping to pave this phenomenal blueprint for best practices in education, by investing your trust, your time, and your unique talents to this mission, so that all of us can rise from it!
       This dynamic model of education also sends a very clear message that each one of us is unique and special, and that each one of us matters. It also demonstrates how each one of us is both a teacher and a student in ever-reversing roles. When we open our hearts and minds to this understanding, suddenly we can see the sheer limitless potential of our lives, and the lives of others.
       For our visit today, I thought long and hard about how we each embody the roles of teacher and student
       The first thing I did after immediately saying yes to being here today, was to ask NPRC to send me as much information and background as they could about each of you graduates. I wanted to get to know you and to connect with the many different journeys you have each had up until this point.
       Looking through the materials I was sent, I was awe-struck by each of you. And I quickly realized that today, I am the student here.
       I am the student here today, and each of you are my teachers.
       This visit was my assignment to take a look back at my journey so far, and to see what more I could learn from those places where I was dragged screaming and kicking by those Egos on lofty perches, and what more I could learn from those places where I was met on my own terms and in my own authentic space, and someone helped me to rise from there.
       When I was in middle school and high school, I was relentlessly bullied. I was made fun of for the way I talked, the way I walked, the way I dressed, and the way I acted.
       This was mostly verbal abuse, but it also turned physical at times. At one point, 4 other kids cornered me. Two of them held my arms outstretched, while a third pinned down my feet. The fourth kid then stuffed dirt and leaves into my mouth, and down my shirt, and even down my pants. And then they left me there, on the ground, crying and feeling ashamed for something I couldn't wrap my head around.
       It took me decades to learn that I needed to forgive all of those bullies, even though the trauma they caused is directly threaded to the anxiety I have struggled with since then.
Forgiving them allowed me to walk forward a little lighter, and to fly a little freer.
       And at the end of that decades-long process of forgiving and healing, I also had the most amazing revelation!
       Once the fog of holding onto that anger and pain lifted, I saw my younger self—that 15-year-old version of me. And suddenly I realized that no matter how much I was tormented and abused by bullies, I never once tried to change the way I walked, or talked, or dressed, or acted.
       I never once tried to change who I was.
       This was the most incredible WOW! Moment of my life!
       So I looked back across those 30 years of time and healing at that 15-year-old version of me. I looked directly into his eyes, and I nodded and smiled at him. I was so proud of him—and so humbled to more fully know who he was, and to realize how he helped me to rise to where I am today.
       And not too long ago, that sentiment and connection was returned to me in another really extraordinary way.
       More recently, I went through a 2-year period in my life where I was again personally and even professionally torn to the ground by something that other people did to me. It happened suddenly and unexpectedly, and brutally. It was like being set on fire and having the people who were involved just stand there and watch me burn.
       To make matters even worse, those 2 years were a journey that I walked, and oftentimes literally crawled, through mostly in private, except for a very small support circle. To this day, most people don't know that it happened. It took every ounce of strength and optimism I had to survive and to keep moving forward.
       But I made it, and I came out the other end of that pitch-black tunnel into a renewed light. The most glorious and refreshing rainfall finally put out the fire that was consuming me.
       At that point, I realized how much stronger I was after the journey of those 2 years that it took to heal and to also forgive. I saw a pathway in front of me—personally and professionally—filled with the most incredible new opportunities that I never could have dreamed of.
       And one of the first things to happen to me when I emerged on the other end of this life-changing journey is that I saw that 15-year-old version of myself again.
       Only this time, he was nodding and smiling at me! He was proud of me.
       That's when I learned that, oftentimes, we are our own greatest teachers. We are the ones who often help ourselves to rise from where we are!
       Now the point to all of this is not what happened to me long ago or more recently. The point is that I am standing here today.
       I'm up here talking in the same voice that once got my mouth stuffed with dirt and leaves. I walked into this room with the same sway for which I was once called ugly names.
       As for the way I dress, I admit I have toned that down a bit, but not that much! And talk about rising up, I submit to you Exhibit A: My new platform Doc Marten boots… However, in the 80's these would have been Neon Pink!
       Regarding how I act: I'll summarize that this way: One of my favorite movies is 1995's To Wong Foo, Thanks for Everything! Julie Newmar. It's about 3 drag queens who are on a cross country trip headed to Hollywood when their convertible conks out in a very small rural town—not that much different from our own towns here.
       As you can imagine, this unexpected stop becomes both culture shock and learning experience for the three drag queens and all of the townsfolk.
       However, by end, one of the drag queens, named Miss Noxeema Jackson, who was played by Wesley Snipes, declares: "I'm not gonna worry about if people accept me or not. I'm gonna make Hollywood wherever I am at."
       When I first heard that line delivered in the theater, I knew I had found a new life motto, or, at the very least, an explanation for why I act the way I do.
       I know that each and every one of you here today has also had, or is maybe even currently having, that journey through the dark tunnel where the light at the end can feel like an impossible destination. But it's not.
       And just like I am standing here today, so too are you here, having achieved this moment, which has been built over many years—breath by breath, tear by tear, and smile by smile.
       So I ask each of you, later today or tomorrow, please take the time to look into the mirror. Look deeply into your own eyes. Think about what you have already walked and crawled through, and are currently journeying through. Then, please do yourself a huge favor: Nod and smile at yourself!
       And, pay close attention to the person in that mirror who is also nodding and smiling back at you.
       About 10 years ago, the publicist who was working on my latest book at the time asked me for a 1-line biography blurb.
       I was like, Okaaaaaaaay.
       I mean, how do you summarize your life and career in 1 sentence?!
       That task made me do a deep dive and really think about who I was, personally and professionally.
       After several weeks of some serious soul-searching, this is what I came up with: "John Schlimm is an author, artist, educator, and advocate."
       There it was: ME summarized in 4 words.
       This turned out to be a fantastic exercise and lightbulb moment in my life. Because suddenly I was able to see myself in very clear and simple terms unlike I ever had before.
       Those 4 words express who I am, and who I continue to aspire to be every day.
       But those 4 words also made me realize something even bigger—something beyond the very hard, 24/7 work that goes into each of those pathways. And something beyond the really fun parts, like going on national book tours, having my art in museums, getting to sit on Hollywood sets and be interviewed in front of millions of people around the world.
       I realized that the gifts I have been given in this life—as an author, an artist, a teacher, and an advocate—have given me many platforms from which I can help others. Many platforms that give me the opportunities to meet lots of different people where they are and then help them to rise from there. And in doing so, they help me to also rise.
       While these platforms have taken me in many different directions over the years—to amazing places and have introduced me to the most fascinating people, all of it has led me to really sharpen my focus in recent years toward one particular cause, which is the brain and mental health awareness.
       Growing up in the 1970's and 1980's and even into the 1990's, mental health was not something we talked about publicly, or privately. In fact, it was pretty much an unspoken rule at school, at home, at work, in the community, and everywhere else that you were never to say words like "anxiety," "depression," "suicide," "addiction," or "I need help." The stigma around mental health, and so many other issues, was deafening and suffocating.
       So for decades, what felt like a ball of ground glass churning in my solar plexus and stomach was a mystery to me. I didn't have the words to put to it. I was just left to accept it.
       I didn't know that the bullying I was experiencing was actually altering my brain chemistry. In fact, the word "bullying" itself was not something that was even spoken, let alone words like "trauma" or thinking about the brain as we do any other organ of the body such as the heart and stomach.
       The fact that on the Straub Brewery side of my family tree we have endured 5 suicides across 3 different generations was a mystery to me. As was the concept of generational trauma—the fact that the traumas of previous generations get woven into the DNA and are passed down to us and from us.
       As a result, I didn't ask questions and I kept silent about what I was both personally enduring and feeling. The truth is, I didn't know what the questions to ask or the words to speak aloud even were. I didn't know what or how to think about the 3-pound organ inside my head.
       Then several years ago, I crossed paths with Generation Z in my college classroom at Pitt-Bradford.
       These first-year students were part of the initial wave of Gen-Z to wash up on the shores of campuses everywhere.
       At the time, I thought we were still in The Land of Millennials. During the first week of that semester, I made mention of Millennials, whom I also thought very highly of, and in unison my class declared: "WE ARE NOT MILLENNIALS!"
       I was like: "Okaaaay, then what or who are you?!"
       "We're Generation Z," they proudly told me.
       I thought, Alright, I'm going to spend the next several months learning about this new universe of young people forming before my very eyes.
       And did I ever!
       When we started having discussions in class and during one-on-one chats in my office, and when their first essays and speeches started coming in, I instantly recognized what made Gen-Z different.
       The raw courage, honesty, and ease with which they discussed their mental health challenges, and so much more, blew me away. I quickly understood that by them speaking aloud words like "anxiety," "depression," "suicide," "addiction," and "I need help" at ages 17 and 18 they were already gifting all of us with the biggest leap forward that the world has ever seen in mental health awareness.
       It became a joy for me to meet them where they were in that space, and to figure out how I could best help them to rise from there.
       In doing so, they gave me the clarity I needed to focus on the issue that has now become a defining mission for me: raising awareness and destigmatizing mental health for everyone, and also helping Gen-Zers to introduce themselves to a world that even today largely sees this unapologetically imperfect generation only as a myriad of stereotypes and caricatures.
       Gen-Zers took that bio blurb of mine—author, artist, educator, and advocate—to a whole new level of a purpose-driven mission. As some of my greatest teachers that I will ever have in this lifetime, they found me where I was and raised me up from there.
       In addition to engaging with Gen-Zers in my classroom, any time I now travel for any reason across the country, I always ask the organizers of my trips to also find me groups of Gen-Zers to sit down with for roundtable discussions and also mental health experts to talk to and learn from. This is me being a student, so that I can be a better teacher and advocate.
       I like to think that if I went back to college today, I would major in Psychology. But, honestly, I would totally fail the courses. Ironically, my brain doesn't work in the way one needs it to for such medically-driven courses and career fields.
       This is despite how in 7th grade I won 1st place in both the local science fair and the regional science fair with my experiments involving various remedy effects on throat bacteria. With trophies in hand, I was convinced I was meant to be a doctor. I even started researching medical schools.
       Flash forward to now: I guarantee you that I am the very last person you would ever want to open your eyes and see looming over you in a doctor's office or hospital. Unless you need a hug, then I'm your guy!
       So, sitting down with survivors of mental health struggles—meaning they are still here and fighting the good fight to hold on and get better—and the experts from all walks of life and all corners of our country is how I have learned about this issue. I've learned by meeting them where they are and listening to their stories and experiences.
       Collectively, they have taught me the questions to ask and the words to say aloud. And they have also given me the confidence, the spaces, and the ease to do so.
       Being a mental health survivor myself—like many of you I'm sure—and really examining what that means has also given me a unique and personal perspective and deeply-ingrained empathy in this area.
       So it is very poignant that we are all here today crossing paths in this special way during Mental Health Awareness Month. This visit itself is a platform for all of us, upon which to learn, to teach, and to celebrate in many different directions. Not only for the great achievements that today represents for each of you, but also the enormous potentials that are awaiting us tomorrow and the day after!
       And, by the way, there is one big fancy long brainy word that I have committed to memory, and that is Neuroplasticity. Neuroplasticity. This is the proven ability of our brains to literally rebuild themselves, based on how we think and the experiences we have.
       This is my favorite fact about the brain, because it's so cool to think that we play a pivotal role in creating and recreating our physical brains.
       Plus, it's always good to have at least one big fancy long brainy word in your back pocket to pull out when you need to!
       Recognizing the many platforms I have been given in this life is how I have now carved out the space, both close to home and far beyond, where I can contribute and have an impact in fresh and original ways when it comes to causes like mental health awareness.
       Today, you each are here with diplomas in hand that bear very specific details about the degrees you have worked so hard to achieve, based on the gifts that you each have been given in this lifetime.
       That diploma is your new springboard, your new launchpad, your new platform. And I don't mean just professionally or career-wise.
       With that diploma in hand and everything else that is unique to you, I encourage you now to think about all the platforms you have for making a difference and for improving the lives of others—for helping others to rise from where they currently are.
       How can you now take the very special blend—of talents, intelligences, passions, interests, and life experiences—that is purely and originally only YOU, and impact your community and the world, in ways great and small?
       It's a big question, and it can be a daunting question. But it's a question that is so worth exploring and answering.
       Because of the sheer breadth of this question, this is probably the best place to now say something about fear.
       Just about anything we do that has any significance in this life comes with at least a few pangs of fear in its many villainous iterations, such as doubt, anxiety, confusion, the risk of failure, and outright curled-up in the fetal-position, rocking back-and-forth scared-to-death panic.
       In 2015, my memoir Five Years in Heaven was published. And that has been an amazing journey for me, especially seeing how readers from across the country and around the world have engaged and embraced it, and in ways I never imagined they would when I wrote it.
       This year—seven years later, my literary agent called and said that she had now sold the audio rights to the memoir, meaning an audio book edition is now in the works. Which was very exciting news, for sure!
       Right away, I requested that the publisher find a Gen-Zer to narrate the book on tape, because I thought that was a cool connection considering my other work with that generation, and I thought it would be a great line for their resume.
       A few weeks later, my agent called again and said, "The publisher wants you to narrate the book!"
       I thought, ME, WITH MY VOICE?!
       I could instantly feel the fear of doing this slithering up my spine. The fight-or-flight chaos in my brainstem was SCREAMING:
       "This is a hard pass! No way! Now run away as fast as you can!"
       But then I heard Moira Rose from Schitt's Creek whispering one of my favorite lines from the show in my ear: She said, "Every project has potential. If you allow yourself to see it, and give it the respect it deserves, others just may follow suit."
       Okay, Moira!
       So I wondered, What is the potential I'm supposed to see here in me narrating this book with my voice?
       Not to mention, at the same time, I saw that 15-year-old version of myself giving me a certain look.
       I mean, I'm a strong person, but I am defenseless against both Moira Rose AND my 15-year-old self!
       I called my agent back and I told her to tell the publisher I would do it.
       I would do it not only for me, but I would do it for every other kid, and anyone else, out there right now who is being bullied or made fun of because of the way they talk, or walk, or dress, or act.
       I may never meet those people, but this was one more way I could use the gifts and platforms I've been given to meet people where they are and help them to rise from there. I'm confident that, at the very least, the energy of my intention will find them.
       And while we're on the topic of fear, please allow me to demystify something for you. There is no such thing as perfect, and something will always go wrong. So don't fear it, simply expect it and don't be surprised when it happens.
       10 years ago, I delivered my first commencement address. Like this one, I started writing it months in advance, and then practicing it. I mean, practicing it every day, FOR MONTHS! Since it was my first, I wanted it to be perfect!
       The big day came, I'm on stage in my cap and gown at the podium in front of more than a thousand people, and I'm nailing every word perfectly, just as I had rehearsed. Until about 30 seconds in—and by now you all know I'm very gestural, I talk with my hands, which is an understatement—So I'm 30 seconds into my commencement address, this huge moment in my life and career—and that of the audience in front of me, and because of my gestures the tassel on my cap starts swinging and whacking me in the face!
       After months of daily practice, the one thing I hadn't planned on was the tassel attacking me.
       It was Whack! Whack! Whack! for 25 solid minutes. And there was no trying to grab ahold of it, because it literally was this wild out-of-control animal on top of my head by that point! And even if I had grabbed it, then what?!
       Hollywood is wherever we are at, and in that moment it was a bit of a comedy, but the show went on. And thanks to that practicing for months, I outlasted the tassel and got the last laugh!
       And, notice, no tassel today! So lesson learned.
       Because of that experience and so many others, I now consider myself to be a recovering perfectionist. It's one day at a time!
       I wish the same for you when you encounter fear or the unknown. Or when the wild tassel of life comes for you. Please greet it face-to-face, and then use it as fuel to raise yourself to a new and better place. And even use it as an opportunity to not take yourself so seriously all the time! I promise you that that better place is always waiting for your arrival and it's always worth the often bumpy ride to get there.
       Before I conclude today, I want to leave each one of you with a challenge. Of course, this would be the perfect place to pop in the Top 3 Bits of Utterly and Completely Cliché Advice for Graduates, but that's so not my style, and I respect all of you and myself way too much to bore us with something like that!
       Instead, I challenge each one of you to find any other speech delivered anywhere else this year that was able to weave in Schitt's Creek, a drag queen, THE BRAIN, and fabulous old ladies dancing on table tops!
       Thank you all so much for being my teachers today, and for crossing paths with me in this extraordinary moment, so that we can all rise from here!
       ROCK ON! +++++