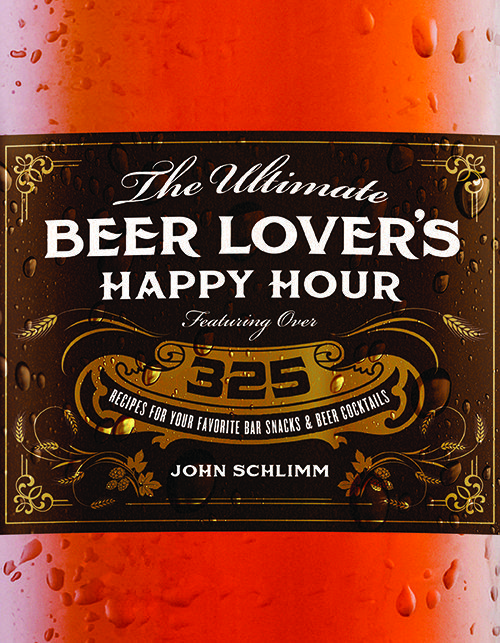 Buy now at these online retailers:
The ultimate party-in-a-book from the award-winning author of The Ultimate Beer Lover's Cookbook
"A fun and adventurous book for anyone who likes to drink beer and eat good food …" – The Sexy Vegan
The Ultimate Beer Lover's Happy Hour:
The Ultimate Beer Lover's Happy Hour:
Over 325 Recipes For Your Favorite Bar Snacks & Beer Cocktails
(Sourcebooks/Cumberland House, August 2014)
"The Ultimate Beer Lover's Happy Hour is the King's guide to recipes that will make you the touchdown of the parking lot. It is the 'party-in-a-book' that beer lovers and foodies have been waiting for . . . This book elevates bar food to an entire new level."
~ Real Food Real Kitchens
"There's no need to leave home when you have this comprehensive party guide."
~ Portland Press Herald
 "This is the supreme collection of recipes for healthy and delicious bar snacks for both vegans and pre-vegans!"
~ Dr. Will Tuttle, The World Peace Diet
"Amazing recipes . . . Yum!"
~ Virtually Yours with Kelly Stilwell
"Impressed with the creativity of the recipes"
~ Super Duper Fantastic
"Tongue tantalizing recipes"
~ Somm in the City
"It's all about delicious recipes that go perfectly with that special something in your life…your beer."
~ Guy and the Blog
"Are you a beer lover like me? Then you'll love The Ultimate Beer Lover's Happy Hour."
~ MomStart
The Ultimate Beer Lover's Happy Hour will take you to a whole new level of tipsy gratification by bringing some of the best bar snacks and beer cocktails straight into your kitchen. This hip new cookbook features over 325 irresistible recipes for delicious bar bites-from Sizzling Sriracha Peanuts to Taproom Tacos 
to Blitzed Bean Soup-and beer cocktails, chuggers, shots, shooters, chasers, punches, floats, and shakes, with nearly 1,000 related pairing suggestions using
today's most popular craft and seasonal beer styles. Whether you're looking to host the next bash or simply create your own happy hour at home, this all-in-one entertaining guide will help you turn every bite into party night!