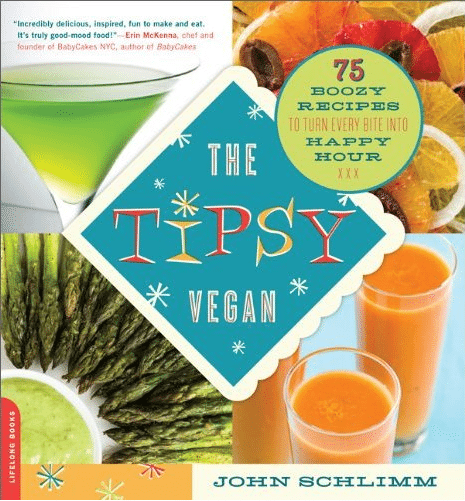 Buy now at these online retailers:
Vegan Cupcakes Take Over the World meets The Boozy Baker meets Vegan Comfort Food in this full-color, hip cookbook.
"No one does a better job of proving that vegans get tipsy than John Schlimm." – Philadelphia Daily News
The Tipsy Vegan: 75 Boozy Recipes to Turn Every Bite into Happy Hour
(Da Capo Press, 2011)
In The Tipsy Vegan, award-winning author John Schlimm brings together everyone's two favorite hangouts —  the kitchen and the bar — in one big love fest of unforgettable creations.  A member of one of the oldest brewing families in the U.S. and author of the largest beer cookbook ever published, John knows a thing or two about boozing up his food.  From this son of a butcher who came out on The Ellen DeGeneres Show as a pro-meatless, pro-vegetable loving kind of foodie, The Tipsy Vegan will showcase 75 recipes using favorites from the bar circuit — wine, beer, vodka, et al. — as key ingredients.
Running the gamut from appetizers, soups, salads, and sides to main dishes, desserts, and, of course, cocktails, this buzz-worthy tome will help readers to always have a blast, whether preparing for a houseful of guests or a party for one. It is John's goal with The Tipsy Vegan to once and for all give vegans and food lovers from all walks of life the ultimate excuse to chow down with a never-ending buzz of laughter, friends, and, especially, great food!
Praise for The Tipsy Vegan:
"Thanks to The Tipsy Vegan, I now have a lot more fun eating my vegetables! John's recipes are incredibly delicious, inspired, fun to make and eat. It's truly good mood food!" ~Erin McKenna, chef and founder of BabyCakes NYC, author of BabyCakes and BabyCakes Covers the Classics
"In this fun book, John Schlimm makes vegan cuisine the life of the party. Easy to make, the recipes are healthy–with a kick!" ~Elizabeth Falkner, chef, Orson and Citizen Cake, author of Demolition Desserts
"Exploding conventional stereotypes of vegan cooking, The Tipsy Vegan takes the compassionate lifestyle to the next level. The menus in this uproariously fun cookbook exude the flair of a true 'bon viveur.'" ~Colleen Patrick-Goudreau, best-selling author of Color Me Vegan, Vegan's Daily Companion, and The 30-Day Vegan Challenge
"The Tipsy Vegan is the ideal way to eat your way to inebriation of the most delicious kind. And to think I can tell everyone that you named this tasty collection after me…the 'Tip'sy vegan. This book is a tempting tribute to the animals…and they thank you for it…So do I." ~Tippi Hedren, president of the Roar Foundation, shambala.org
"John Schlimm's clever and kind cookbook The Tipsy Vegan is a boozy and compassionate good time just waiting to happen. Cheers!" ~Todd Oldham, designer and author
"Whether you fancy yourself an average chug-a-lug beer drinker, an occasional cocktail drinker, or a fine wine connoisseur, without a doubt you'll find several recipes in this book to tantalize your taste buds." ~Beverly Lynn Bennett, veganchef.com
"The Tipsy Vegan smashes to smithereens the morbid myth that vegans are dour and joyless. It gives us recipes to gratify any lover of good food; that they carry a little kick is simply a delightful bonus." ~Victoria Moran, author of Main Street Vegan and Creating a Charmed Life
"I didn't realize veganism can be so fun. A delightful, smart, and elegant read, The Tipsy Vegan offers a cornucopia of culinary adventures, hiccups included." ~Farmer John Peterson, founder of Angelic Organics and star of The Real Dirt on Farmer John