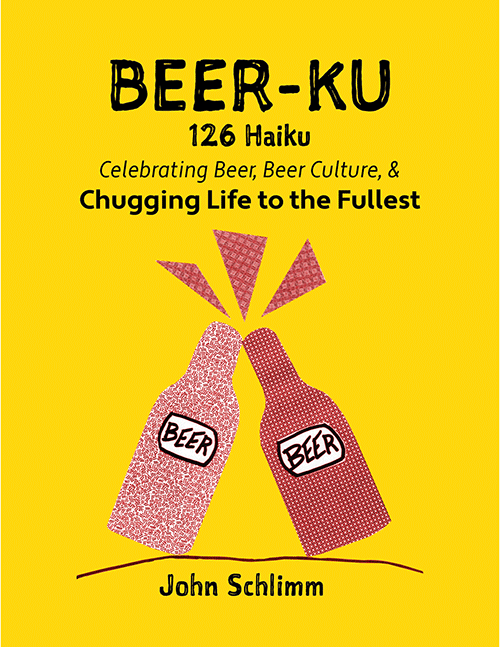 _____________________________________________________________________________________
—The Big Level Micro-Press Releases First Chapbook— 
BEER-KU:
126 Haiku Celebrating Beer, Beer Culture, & Chugging Life to the Fullest
By
International Award-Winning Author John Schlimm
_____________________________________________________________________________________
(Mt. Jewett, PA) – The Big Level Micro-Press will release its inaugural publication—BEER-KU: 126 Haiku Celebrating Beer, Beer Culture, & Chugging Life to the Fullest by international award-winning author, artist, advocate, and Harvard-trained educator John Schlimm—as a limited, first-edition chapbook on September 19. Free copies of BEER-KU will be available throughout The PA Wilds region via both events and pop-up offerings at various locations.
"When publisher Angela Cornelius approached me to write The Big Level Press' first chapbook, the answer was an immediate yes," said John Schlimm, who is a fifth-generation member of one of the oldest brewing families in the U.S.—Straub Brewery, founded by his great-great-grandparents in the 1870s. "As an advocate for the Arts and Humanities, I admire the work Angela is doing and plans to do in our PA Wilds region and beyond as a humanitarian, artist, and now publisher, and so I donated the BEER-KU manuscript to The Big Level Press to both help launch her new arts and culture publishing initiative and to ensure that readers will receive the chapbook for free while supplies last."
Haiku is a traditional form of Japanese poetry that is written in seventeen syllables that are divided into three lines of five, seven, and five syllables. "I loved using the unique structure of haiku combined with the grassroots-nature of a chapbook to celebrate everything we all love about beer—from dive bar groupies like me to the more sophisticated beer snobs—and to create a collection of poetry that anyone anywhere can enjoy and relate to in some way," said Schlimm, who is the author of twenty-five previous books. "As a writer and artist, it was especially gratifying to write and illustrate BEER-KU to further show that stories can be told in many different ways."
The Big Level Micro-Press is looking for exceptional works of literature and art by new and established artists and authors. They aim to record, produce, and publish media from local artists and authors— preserving cultural lore for future generations. Their inaugural publication, BEER-KU, exemplifies how haiku poetry can capture culture through micro-stories.
"I am delighted to present BEER-KU as the inaugural chapbook from Big Level Press. Combining haiku with drinking beer is an intoxicating way of presenting and perceiving culture. As a poet, I love fostering poetry for the people," said Angela Cornelius, of The Big Level Micro-Press and Director of Cornelius Creative, LLC. "Chapbook publishing comes from the DIY culture and is a fun and inexpensive way to share stories, art, and ideas with the community."
For Schlimm, BEER-KU allowed him to stretch his writing muscles into a new genre while also giving him the opportunity to create the chapbook's illustrations and encourage readers everywhere to re-think what poetry can be.
"BEER-KU gave me the awesome opportunity to flip the stereotype that all poetry is boring and incomprehensible on its head," said Schlimm. "These beer-infused haiku humorously explore things like taps in the living room, backroad family reunions, keggers at camp, smoky dive bars, year-long pub crawls, tap room hookups and weddings, beer snob lingo, flights of the latest craft brews, unforgettable characters like a pet goat who loved to chug beer, and what really happens after last call! This makes poetry accessible, relatable, and enjoyable for everyone everywhere, and proves that we all have a poet deep inside just waiting to be tapped."