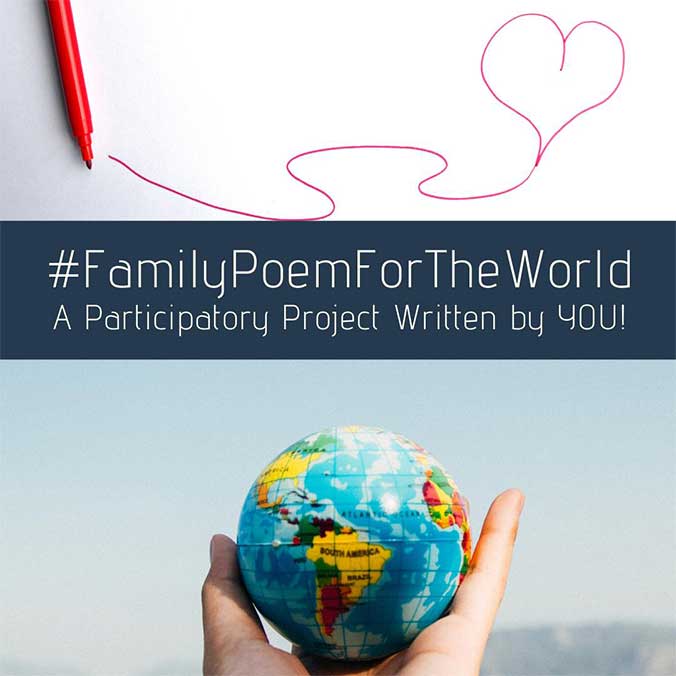 "A Family Poem for the World": A Participatory Poem-Writing Project
"A Family Poem for the World"
A Participatory Project Created By YOU!
Edited By John Schlimm, in partnership with Familius
YAY!
. . . and our hearts, breath, and prayer became one . . .
Be the "YES" person!
To have the power to know you're special
while humble enough not to use power.
Be the "special" in someone's life.
AWAKEN!
Perhaps God has pushed the reset button
to remind us of what's important.
Not money, power, or material things, but each other.
Of our many blessings even in dark times,
I'm thankful for technology to help keep us together
while we need to be apart.
SMILE,
it makes the world a brighter place!
We don't have to be perfect, we just have to be.
Silver lining of life becoming simple, unfrazzled.
MEOW!
Love all.
Serve all.
. . . to be a redeeming presence in the world.
COMFORT!
Love, unity, community.
Sometimes the person you don't want to talk to
is the very person you need to talk to.
She embraced the suffering world with open arms.
Enduring pain and hardships together
will bind us with love for the rest of our lives.
We work to liberate love.
Que sera, sera.
What will be, will be.
You got this!
BREATHE:
slow;
focus;
exist;
be present.
Feeling my way in the darkness
Pinpricks of light
Squinting, I glimpsed God.
VULNERABILITY!
. . . be in tune
with thoughts, emotions, wants, needs.
Be a better you
and there will be no end to what we can do.
Be good, do good.
GRATITUDE!
I look up at the stars.
I give thanks to God for putting them there,
and for keeping my family, my community,
my self safe another day.
I draw in deep breaths of air
and am thankful that I can.
CREATION!
The world created in the still and silence
will again be vibrant and full of color.
At the sunlit eaves of my rib-cage
clouds morph
in their urgent, timeless instruction
to be here now, and now, and now again.
Life finds a way
in the in-between times.
CONNECTION!
One day, we will all be stardust.
Do unto others
as you would have them
do unto you.
Luke 6:31.
We are equals.
Good humans connected
in a new, different way,
seeking solutions and working together
to keep our loved ones and neighbors
safe.
The titles that matter most
are not related to our jobs:
Mom
Dad
Sister
Brother
Daughter
Son
Aunt
Uncle
Grandmother
Grandfather
Friend.
LIGHT!
"A single sunbeam is enough
to drive away many shadows."
Saint Francis of Assisi.
TIME
The earth groaned.
A Voice resounded.
We sifted
together
from crevice to crevice.
Hope is alive in every new morning.
COMPASSION!
Always available, not always present.
When we are divided, it doesn't exist at all.
But in times of trouble, shield your eyes,
look to the horizon.
For compassion is riding in.
Compassion drives out division.
Humanity wins.
NATURE!
I sat and opened my senses
to the cleansing gifts
that nature is always willing to bestow.
Winds wending through tree branches, beguiling.
Cardinal's distinctive songs.
Sunlight warmly stroking my skin.
Tension evaporated, replaced by gratitude.
A grateful, natural prayer
to what always awaits me.
KINDERGARTEN!
Five and six year olds:
"I'm sad . . ."
"I'm happy . . ."
"I'm mad . . ."
"I'm hungry."
What is one word you would say to the world?
"Healthy."
"No."
"Love."
"Happy."
What brings you joy?
"Talking to teachers everyday!"
"Toys!"
"Mario and Luigi!"
"Therapy!"
F-R-I-E-N-D-S!
Amazing
Loving
Loyal
Incredible
Encouraging
I'll be there for you!
NOW!
Go inward, cocoon, discover.
Break free of old
and fly
to your wondrous NOW!
DARKNESS
The darkness always promises
the brightest light.
When life gets scary and hard,
choose to be a ray of light.
PAUSE . . .
PRIORITIZE . . .
EMPATHY:
a blessing, a curse, feeling every hope and fear
vulnerable, but grateful
worried, but faithful
a spinning wheel of emotion
we are human
we are love
we are strong
together.
FAMILY!
Family is . . . connection, time, and balance.
Family is . . . laughter, tears, and joy.
Family is . . . humility, grace, and courage.
Family is . . . giving, receiving, and sharing.
Family is . . . truth, transparency, and respect.
Family is . . . the power of unconditional love.
STORMS!
I can't stop the rain
nor the storm clouds
but
I
can
adjust
my focus.
Together is better.
I can stop the tears
and see beauty in the storms
as
I
breathe
hope
to the world.
RESTLESS SOUL
Mercy, Compassion, and Presence
from above
calm our restless soul
and fill our heart
with Love and Hope.
JOYS!
We can still greet the simplest of joys,
lying on a patch of green,
watching the clouds cavort . . .
Join hands whoever you may be.
We are all of this world you see.
AMEN!
FORGIVENESS?
A learned art
of letting go,
of loving . . .
of listening,
of looking back in step
with moving forward, of healing,
humility.
About "A Family Poem for the World":
Amidst the early months of the Covid-19 Pandemic in 2020, Familius and John Schlimm launched the participatory poem-writing project A FAMILY POEM FOR THE WORLD.
John's understanding of the power that creating (and creating TOGETHER) can have in bringing people together and lifting them up parallels Familius's mission to help families be happy.
Familius founder and CEO Christopher Robbins says, "My first introduction to poetry was through my grandfather, who used poetry to communicate important life lessons to me. Poetry has the ability to distill into the most succinct and beautiful language lessons, thoughts, and emotions that connect us to what is most important."
People from across the country and world submitted words, phrases, and single sentences to Familius on social media using #FamilyPoemfortheWorld, which John compiled and edited into A FAMILY POEM FOR THE WORLD.
John Schlimm and Familius are also happy to offer a discussion guide for families, educators, and remote learners to accompany A FAMILY POEM FOR THE WORLD, available upon request (kfarrell@familius.com).