"The Gussie Tribute Collection" Gallery Opening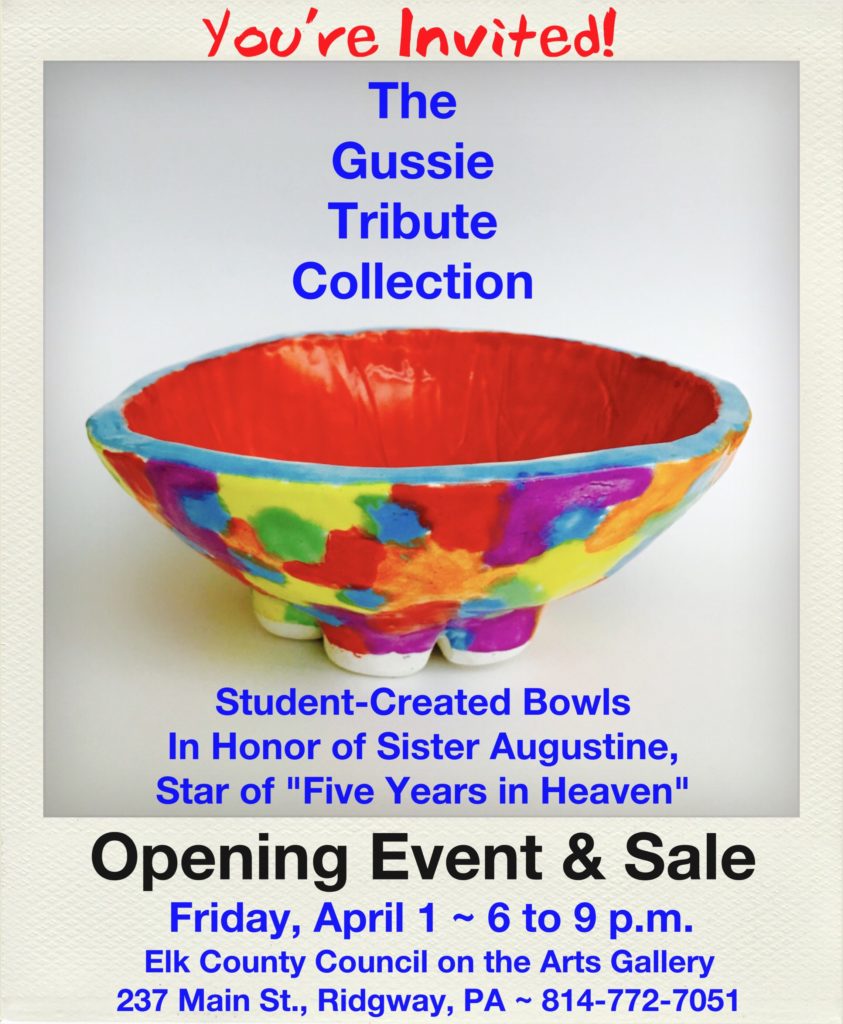 High School Art Students to Honor "Five Years in Heaven"
Star & Celebrated Artist Sister Augustine
with "The Gussie Tribute Collection"
Opening Event and Sale at ECCOTA Gallery on April 1
[See selected pieces from "The Gussie Tribute Collection" at the bottom.]
On Friday, April 1, from 6:00 to 9:00 p.m., the Elk County Council on the Arts Gallery (237 Main Street, Ridgway, PA) will host the opening event and sale for "The Gussie Tribute Collection," a limited edition of abstract ceramic bowls inspired by the late Sister Augustine and created by art students at Ridgway Area High School under the direction of teacher Rich Skellen and guest-curated by John Schlimm. The event is free and open to the public. Each of the bowls will be available for $12.00, accompanied by a special tag of provenance, and will also include a complimentary ticket to the ECCOTA "Feed the Arts Soup Benefit" (April 7). All proceeds from the sale of the bowls will benefit the ongoing efforts at ECCOTA.
In January, Skellen began working with his art students to study Sister Augustine's most famous series, her nearly 500 abstract "Gussie's Special" bowls and vases, which she created using mostly leftover paint in her ceramics studio at St. Joseph Monastery during the last five years of her life, from ages 87 to 92. Working in both their in-school art studio and at Brockway Center for Arts & Technology, the students were challenged to create their own inspired versions and interpretations of Sister Augustine's "Gussie's Specials" for "The Gussie Tribute Collection."
"Ridgway Area High School is excited to be a partner in celebrating Sister Augustine's life and career as an Elk County artist who had her heart in the Arts for almost forty-five years," Skellen said. "The students have enjoyed crafting bowls inspired by Sister's signature Gussie's Special ceramics. The Gussie Tribute Collection project has been a wonderful learning opportunity for the students to merge Elk County culture with the importance of ceramics as a technology we often take for granted."
Sister Augustine and her "Gussie's Specials" have recently gained national and international attention with of the release of Schlimm's best-selling memoir, "Five Years in Heaven: The Unlikely Friendship That Answered Life's Greatest Questions," which inspired a global social media movement that has reached nearly five million people worldwide. And earlier this year, ECCOTA honored Sister Augustine posthumously with its "Lifetime Achievement Award."
"Sister Augustine would be so thrilled to see students carrying on the spirit of her work in this special way," Schlimm said. "For the many people who never had the chance to get a Gussie's Special or for those would like to now add something uniquely spectacular to their Sister Augustine collection, these incredible students have created small masterpieces that will be treasured for generations to come just like the original Gussie's Specials."
"The Gussie Tribute Collection" event comes on the heels of last fall's "Unfinished Works Collection by Sister Augustine" where 200 clayware works left unfinished by Sister Augustine in her studio at the time of her passing sold out in 20 minutes.
For nearly 45 years, from 1964 to 2008, Sister Augustine transformed simple clayware into unique pieces of artwork. From her humble four-room studio and shop that she started on the grounds of St. Joseph Monastery—the oldest Benedictine convent in the United States, this self-taught artist quietly worked, full-time and over-time, 6 days a week. Even when she was 92 years old.
During her lifetime, Sister Augustine created a prolific body of work, which has been collected by people throughout the country and around the world. There is at least one of her Nativity sets in all 50 states, as well as in Japan, England, and Germany. Her other clayware pieces have travelled as far away as Central America, Africa, and even Russia.
Schlimm added, "Sister Augustine's life and the work she has left behind speak to the very nature and spirit of art itself. Reflected in her brushstrokes, we find not only the story of the artist herself, but glimpses of the gifts, talents, and potential within ourselves. Now her story marches on through the heart and talent these art students have put into sharing The Gussie Tribute Collection with us."
For more information about "The Gussie Tribute Collection" event, please contact the ECCOTA Gallery at 814-772-7051.
Selected Pieces from "The Gussie Tribute Collection"