 JOIN ME FOR… #ThankANun Day on May 5, 2015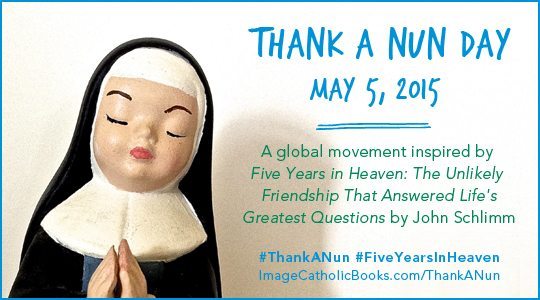 On Tuesday, May 5, which is release day nationwide for my new memoir Five Years in Heaven: The Unlikely Friendship That Answered Life's Greatest Questions, my publisher Image (the Catholic Division of Penguin Random House) and I are launching a global, social media movement called Thank A Nun Day. The goal is to collectively send out a huge "Thanks!" to all the Catholic Sisters worldwide, past and present, who have shared their wisdom, humor, and grace with us.
Image and I would greatly appreciate your help and participation in spreading the word about Thank A Nun Day, which will be largely facilitated on May 5 through the use of the hashtag #ThankANun on Facebook, Twitter, Instagram, and Pinterest. People are invited to share memories, greetings, and photos, using that hashtag.
People can register to be part of Thank A Nun Day on our Thunderclap page by clicking HERE.
We also have a Thank A Nun Day landing page on the Image website ~ Click HERE.
Be sure to checkout the fun downloadable COLOR A NUN activity on the landing page that kids can color and share to also participate in Thank A Nun Day.
Please go ahead and start sharing this information through your channels.
Million Thanks! +++++